Program ID: Innovation Anthology #901
Program Date: 10/03/2017
Program Category: Alberta, Entrepreneurship & Commercialization, Environment, Water
Techstock: Canada's Water Accelerator Water NEXT
Water NEXT is one of many social enterprises that took part in Innovate Calgary's 2017 Techstock Tradeshow.
As Steve Herman explains, Water NEXT is the brainchild of water advocate Dr Kim Sturgess.
And it bills itself as Western Canada's Water Accelerator.
STEVE HERMAN:
So we want to take entrepreneurs in Alberta that have water related ideas and help grow them into businesses. An entrepreneur would come to us with an idea, related to water treatment, water use, reuse, monitoring, managing, anything like that, and we would help them develop their idea from a technical perspective and from a business perspective using our network of global experts. And once that idea and the company has been developed, we would want to connect them with investors who are interested in investing in the water space. And as you read the news whether it's the hurricanes in the south of the States, or the giant blob of gunk they pulled out of the sewers of London, water issues are certainly far reaching.
Steve Herman says Water NEXT will help address the needs of a growing water economy in Alberta and export our expertise around the world.
Learn more at

INNOVATION ANTHOLOGY.COM
I'M CHERYL CROUCHER
Images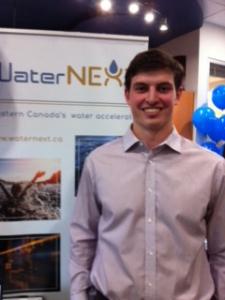 Guests