Program ID: Innovation Anthology #919
Program Date: 12/05/2017
Program Category: Alberta, Engineering, Oil Sands
Mal Carroll: Syncrude Improves Hydro Transport Technology
Mal Carroll is Syncrude's General Manager of Research and Development.
He calls hydro transport an enabling technology.
Syncrude's invention 20 years ago was so successful, it's now used by other oil sands companies.
And as Mal Carroll explains, the technology is constantly evolving.
MAL CARROLL:
The technology has been deployed in our North Mine. It's also used in our Aurora Mine now, so that's a second iteration. We're in this mode of continuous improvement where we are continuing to look at how do we improve the technology in order to make it more efficient, more reliable, smaller scale, smaller footprint. I think there's areas for improvement in terms of getting it closer to the mining face. And smaller scale, smaller capital involved in building new hydro transport systems. So getting it closer to the mining face would allow us reduce the number or maybe even eliminate the use of haul trucks. So we're certainly looking at some technology options for the front end of the hydro transport system.
One of the new forms of hydro transport works in remote sites and is called natural froth lubricity pipelining.
Thanks today to

SYNCRUDE.
Images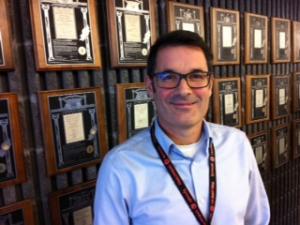 Guests